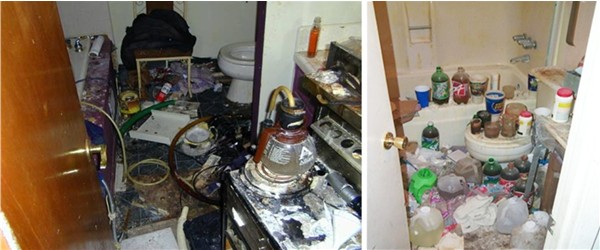 Houses can be tested for drugs just as simple as an individual gets tested. But...when you're purchasing a home, you're objective is not to pinpoint an individual drug user at this point in time. You want to test the actual components of the home to verify that the home is not contaminated with drugs (See pictures above). You want to find out whether or not previous owners have ever made, distributed or even used specific drugs in the dream home that you are planning on purchasing.
Some drugs have had lingering health effects in many homes that it has prompted local health officials to board them up until a professional cleanup is performed. Another important item of concern would be the safety of your children. As you know, children touch everything in sight and if drugs are present on the surfaces of a home, the results could be devastating. Testing for drugs in your prospective home now will give you the opportunity to get a sneak peek at what's actually been going on behind closed doors. My drug testing will give you peace of mind knowing that drug residue definitely does or does not exist on surfaces throughout the home. You can then proceed with your next step in purchasing the property. Avoid waiting for any accidents that could happen from exposure to drug residues.
My drug testing tool is patented technology that can instantly detect and identify 5 major types of illegal narcotics on any non-porous surface within a home. It gives me the ability to detect trace amounts of Cocaine, Amphetamine or Methamphetamine, Opiates (Heroin), and Marijuana (Cannabis) down to the nanogram level. This test utilizes patented biosensors that allow me to detect and identify invisible amounts of drug types, their patterns and their exact location. I will then provide you data on the intensity, type, and the location of any illegal drug activity within that particular home.
This test differentiates itself from other drug detection products that are currently available on the market today because it tests for the actual raw drug. Any trafficking residue can be easily detected as well as the sweat that was secreted and deposited on surfaces from drug impaired users. When an individual is blood-impaired or high on a particular drug they will actually sweat out the raw drug. They will then leave their sweat on multiple surfaces throughout the home by touching them. These surfaces include doors - knobs and trim, handrails, walls, light switches, worktables, sink fixtures, countertops, windows, etc. I can test every one of these surfaces to determine whether or not there were illegal drugs on the property. At the conclusion of my testing, I will record your results into a report and hand them to you. You can then take your next step into purchasing this home.
If you think this drug testing is an invasion of privacy, it is not. If you (the Buyer) will eventually own the property being tested, then you have the absolute right to test it for drug residues. It's not considered to be invasive at all. At this point of the sale, if the Sellers didn't do anything wrong, then there's nothing to worry about. Don't wait until it's too late, as drug clean-ups can cost you thousands of dollars. Home Buyers Nightmare
If you are reading this and are not purchasing a home but are simply curious if drug residues do actually exist within your home or workplace, please call me at 978-683-4984 to discuss quantifying you and your family's risks.
This drug test has been used by over 1,000 local and state government agencies since the late 1990's, but it is now on the market for private businesses (such as mine) to determine the presence of drugs in specific environments. Today, it is currently being used by the DEA, FBI and US Customs and has been a vital part of the Office of National Drug Control Policy Technology Transfer program. This advanced technology produces field reliable results within minutes on-site.